Reluctance DC Rotary Compressor (3HP)
The reluctance DC motor has a rotor equipped with powerful neodymium magnets. The magnetic torque produced by the neodymium magnets and reluctance torque results in more efficient operation.
DC Fan Motor
A high-efficiency DC motor drives the fan of the outdoor unit. It offers up to 60% greater efficiency than an equivalent AC motor.
Vector-Wave Eco Inverter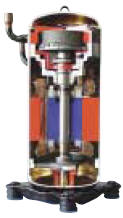 This produces the most efficient waveform in responseto varying compressor motor rpm. By improving operatingefficiency from low to high speeds, annual electricitycosts are reduced.

New Highly Efficient Scroll Compressor

(4 / 5 / 6 / 8 /10HP)

The newly developed scroll compressor is equipped with a "Frame Compliance Mechanism" that allows movement in the axial direction of the frame supporting the cradle scroll. This greatly reduces bothleaking and friction loss, ensuring very high efficiency throughout the speed range.